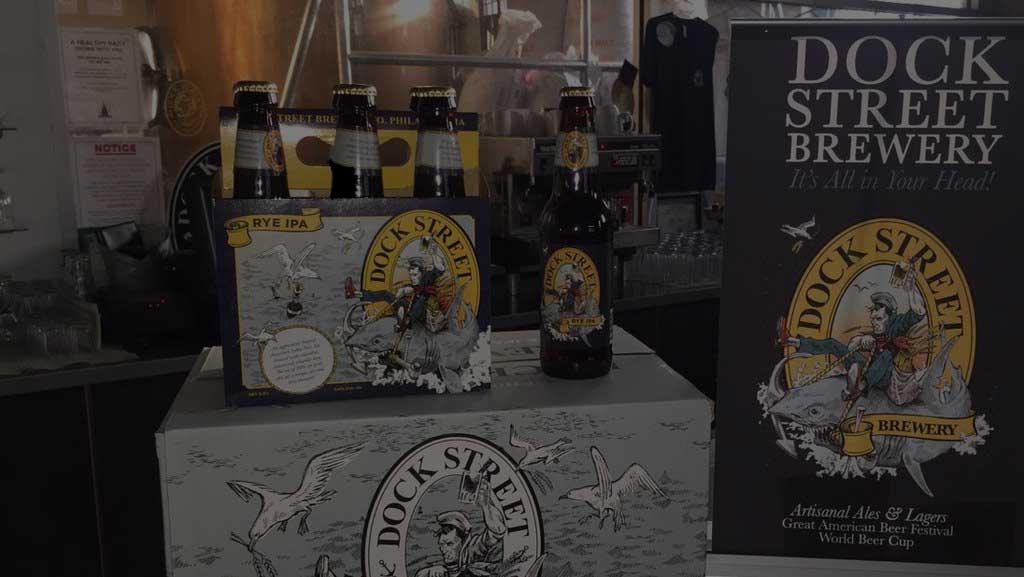 Welcome to Dock Street Brewery!
Dock Street Beer Cans Coming April 2017!
New – 16oz Cans
In April 2017, Dock Street Beer will be available in cans for the first time ever.
We're starting with 16oz cans of one core style, our Golden IPA – the beer of a hundred tweets – and two small-run seasonal offerings, No Exit Double IPA and Jip The Blood, a Berliner weisse with blood orange. We'll be incorporating more core brews, one-offs and hyper-limited releases to the line-up as we go.
These first releases will only be available at Dock Street Brewery, Dock Street Cannery and Lounge, plus a very select handful of our ride-or-dies in the local restaurant and beer scene. Four-packs and 24-pack cases will be available for takeout purchase from both of our locations plus select distributors.
The Origin Story.
Here's the short version.
We started in 1985, amidst a proverbial sea of watered down and adjunct-plagued lagers, as one of the first post-prohibition craft breweries in the country - and Philly's first all-grain brewpub.
Now, we call a firehouse at 50th and Baltimore Avenue home. We've come a long way since our first location at 18th and Cherry – 3.9 miles, to be exact – but to this day, countless craft beer drinkers credit Dock Street as the beer that turned them away from yellow-tinged macro-brews and corn-infused light lager.
We're known as much for our fearless experimental beers like the Walker (brewed with goat brains in honor of our favorite show, The Walking Dead) as for staples like our Bohemian Pilsner or our Prince Myshkin Russian Imperial Stout, one of the highest rated beers out there.
What's in a name?
Our name, Dock Street, was chosen in honor of the seaport district which was, in the late 1700's, the largest producer of beer in the then-newly-formed country.
Today, we still brew with the spirit of Philadelphia's sudsy history, and Dock St. (pictured above, in 1908) in mind.
In fact, it wasn't unusual to find pirates and statemen alike sitting elbow to elbow and minding their P's and Q's at the taverns lining Dock Street all those centuries ago, and we like to think that things are no different at our place in West Philadelphia nowadays.
Visit us.
Dock Street Brewery practices the craft in the ground floor of a 110-year-old firehouse at the corner of 50th and Baltimore Avenue in West Philadelphia.
We converted roughly one third of the firehouse into a production brewery, devoting the rest of the space to a sensory-stimulating restaurant. Many of our draft beers travel less than 65 feet from conditioning tanks in the brewery straight to the pint glasses and mouths of our patrons, making our offerings quite literally some of the freshest beers available.
In 2017, we converted the garage next door on 50th Street into a canning facility and tasting room. We'll be fermenting, aging, and canning beer onsite round-the-clock, and we'll be open as a Tasting Room for beer, draft wine, a few classic cocktails and beer cocktails (both draft and made-to-order) plus small bites Thursday, Friday and Saturday evenings.
Take a Brewery Tour.
Brewery Tours are available every Saturday by appointment
at 2pm and 4pm.
Grab some friends and take a guided tour of Dock Street Brewery! See how we make our small-batch, award-winning and handcrafted beer in our brewpub in West Philadelphia. When you're done, join us front-of-house for our famed wood-fired pizza and fresh beer. We hear it tastes just that much better when you see exactly how it's made.
Tour includes samples, logo pint glass and stickers.
Food.
Complementing our handcrafted brews is impressive lineup of hand-tossed, wood fired pizza from our EarthStone Wood Oven, char-grilled burgers, numerous vegetarian and vegan friendly options, fries and bites, plus spirits, wine, and beer cocktails.
Come by for apps like our Trio Fries (potato, sweet potato and leeks), friend, Panko-crusted fresh mozzarella (a foodie-approved take on the more ubiquitous but not nearly as delicious diner version) or pizzas ranging from classic – Americana or Margherita – to culty – Flammenkuche, Fig Jam, or the pickle-topped Cubano.